We make sharing to whatsapp Groups and Broadcast Very easy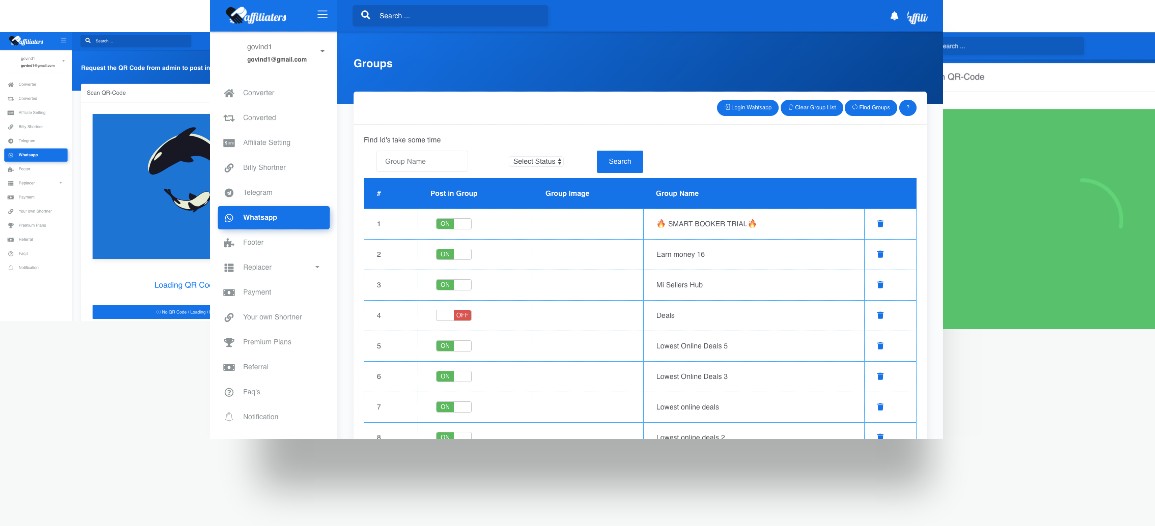 This is very hard to send messages in Groups when you have more than 10 or 20 Groups. We can use GBWhatsapp and many other whatsapp alternative but now therse days whatsapp is very strict for all these. So here we are comes with new idea to save your time to send messages to your followers. Just follow the simples steps and Enjoy the power. You can send message to your 1k+ Groups in just seconds.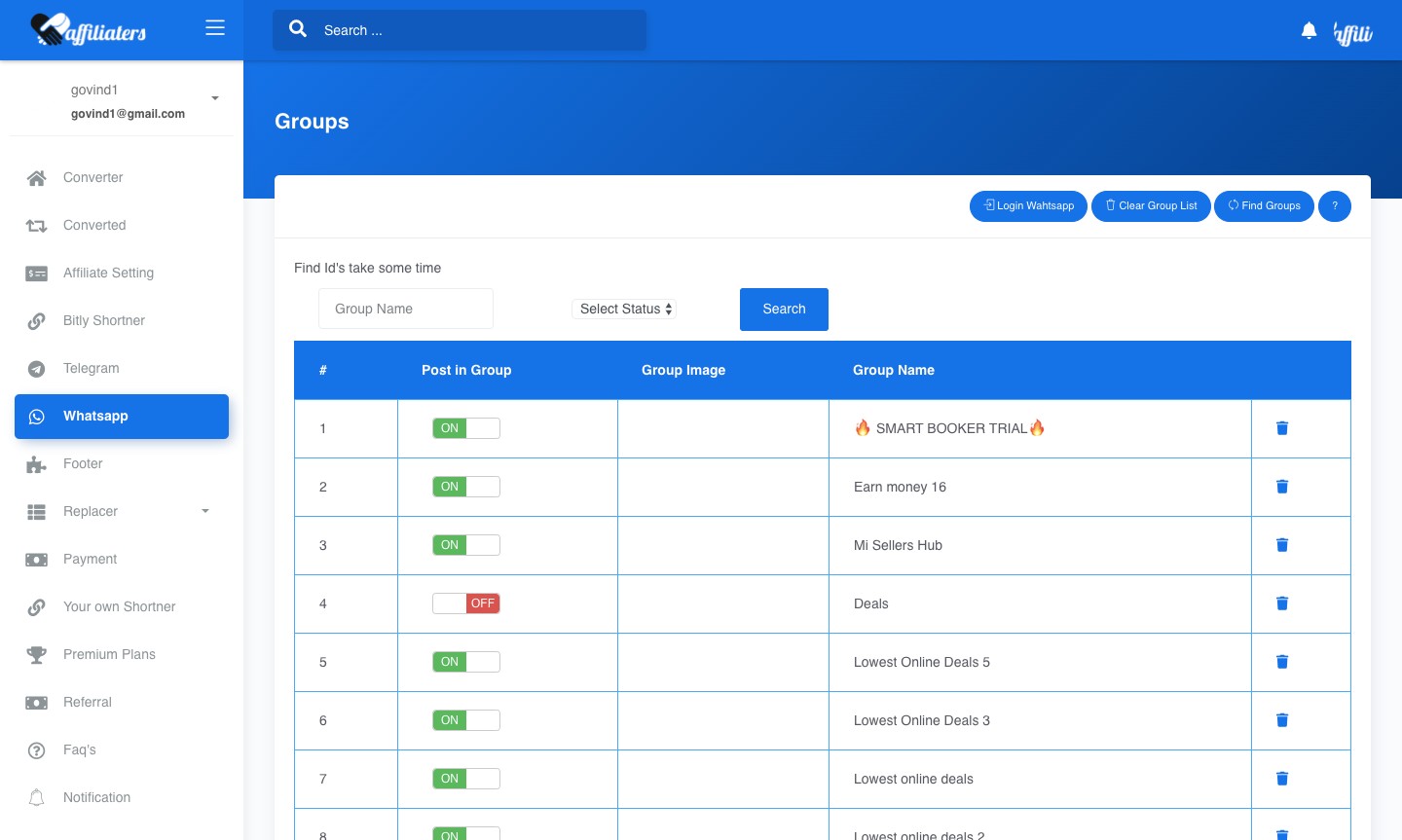 This is a premium service that means you must have to pay first (If you are trying it for first time we will provide you demo for the same)
Please do clear your Whatsapp Data(if Possible otherwise this process take more time for the first time).
This service is in Beta.
Best Part of Whatsapp Sharing
Share Fast Earn Fast
Unlimited Groups
Through our serviece you can share in any no. of groups in seconds And can Automate your group Posting too. Many of us having lots of groups and sharing into them is very difficult, Why to worry use our tool
Unlimited Post
Other tools restrict you to send only less no. of post per day/Moonth. But we are offering you to send any no. of message per day and month. We are not stoping you earn through our serviece.
You need to go to Whatsapp menu and than you find a Whatsapp Login button on the top of table. Just go the Whatsapp page you will be able to see the page like attached.
If you are logged in you will get. Meesage saying you are logged in else it shows a button for request QR from Admin.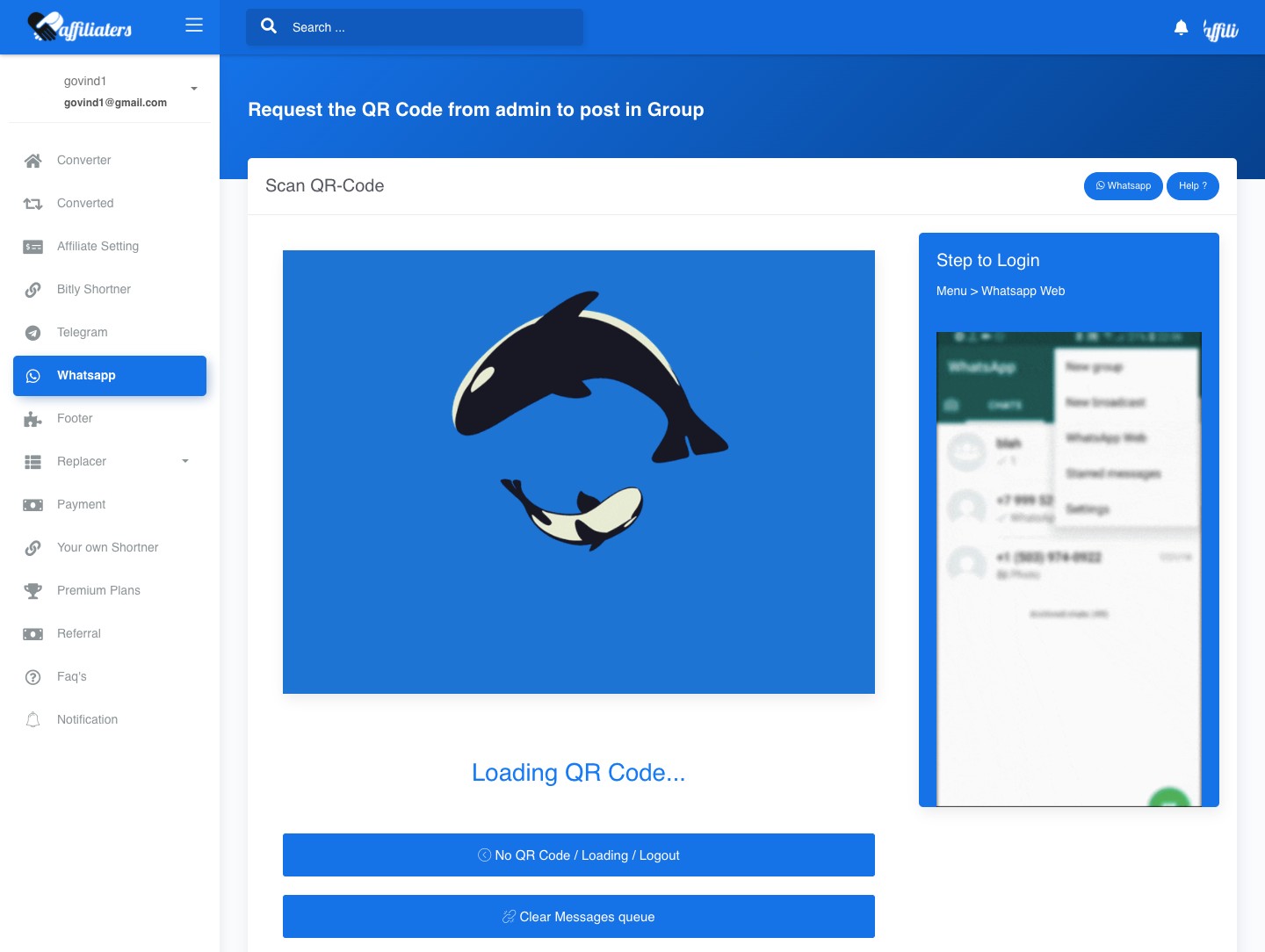 Find groups to share your post

Find Groups
After Login to whatsapp this is time to find your own groups. You will be able to post only where you are authorized to post. Please don not share to ristricted group it may lead to ban your whatsapp Account.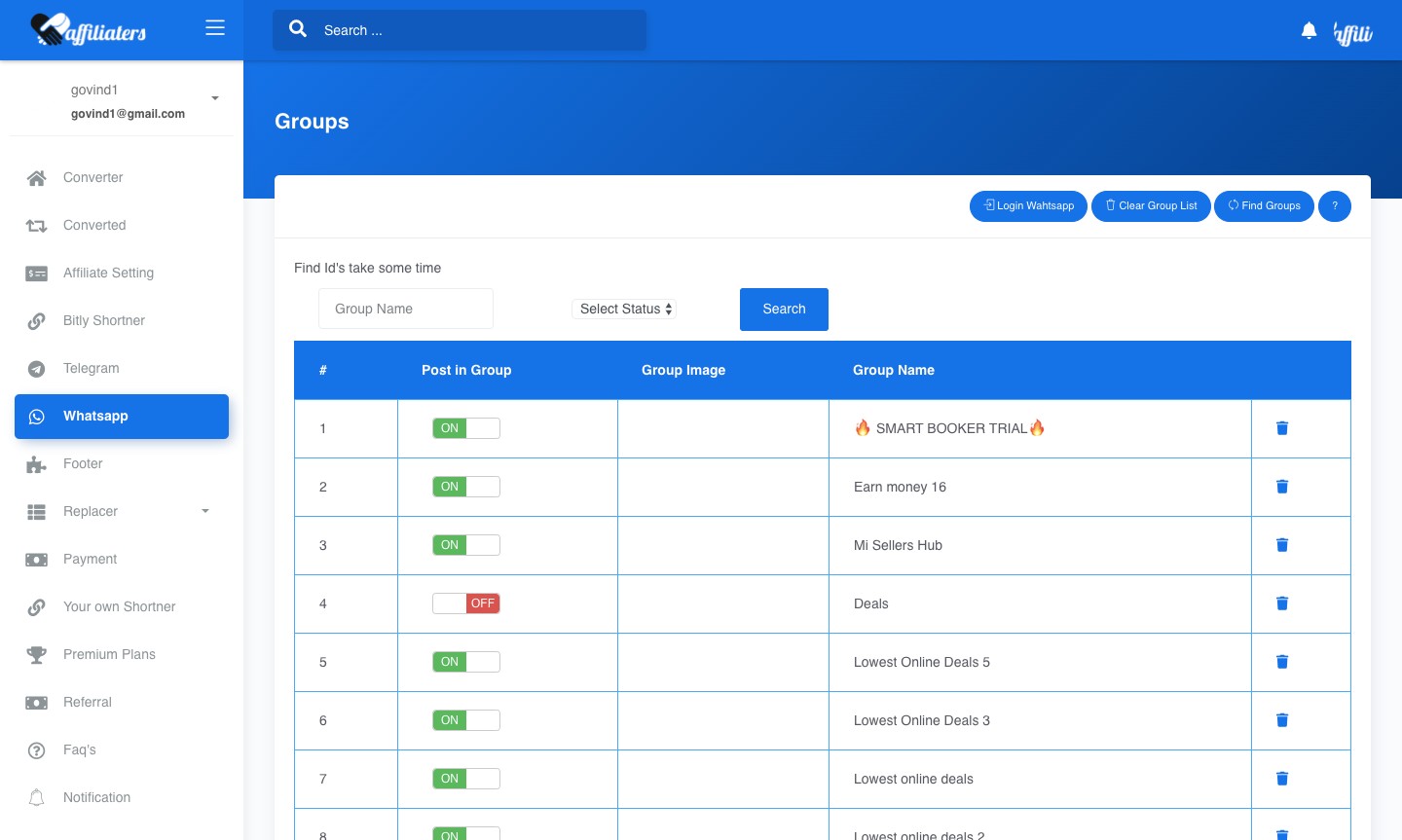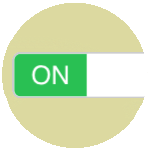 Select Groups to post
After finding groups you will see the list of groups where you are joined. Not you can choose the groups where you want to share your post. Just turn of the button and this is done. Now try to convert post and see magic.
About Whatsapp Login Process
Login to http://app.affiliaters.in and go to Menu > Whatsapp ( http://app.affiliaters.in/whatsapp/groups ) and you will see like below:

Now Just Press the Request QR code Button and you will fird the qr code in next screen or a message "PLEASE WAIT WE ARE ON WORK TO PROVIDE YOU QR-CODE GIVE US 10 MINUTES…..".

When QR code is added to you account you will be able to see QR code in Whatsapp Login menu. Just Keep open the page and scan your QR with your whatsapp in which you want to share Messages with your followers. For this all you need two device either a PC or other mobile where you can login your account and Open Whatsapp Login Page

By scanning QR/Login to our system you are Authorise us to Scan your whatsapp groups and send message to your groups by our system (Only when you want to send)

This is all about whatsapp login.

 

If you see that you can't login when you scan QR just Force stop your whatsapp and open again and try to scan qr again you will be able to login.

 

Please do not convert Deals when your whatsapp is off or mobile is in off state because it put all your message in Queue (In one QR only if you cange your QR it will not send previous message to new QR) and will send when you back online. So just use Advance convert and use convert only and paste in your social media to prevent your whatsapp blockage.
About Whatsapp Group Finding Process
if you are reading this means you are logged in with your Whatsapp. If you have more groups please wait for 10 to 20 Min after login with QR. This process will take more time to find groups so have some patient and wait till this process end.
Go to Whatsapp > Whatsapp Groups than you will find a button "Click to Find Your Groups".

Please Wait till the process is end. It may take more time depend on whatsapp group count.

If your group find showing complete and not found nothing in list than wait for some time and Refresh Whatsapp Group Page, Still not find ! Than wait for 10-20 Min and try again till you found your groups.
Still Not Find after a long time contact admin at Telegram Govind Tiwari or @GovindTiwari

Turn On button where you want to post and off is used to stop posting the deal to particular group.